How to Trim Your Beard At Home?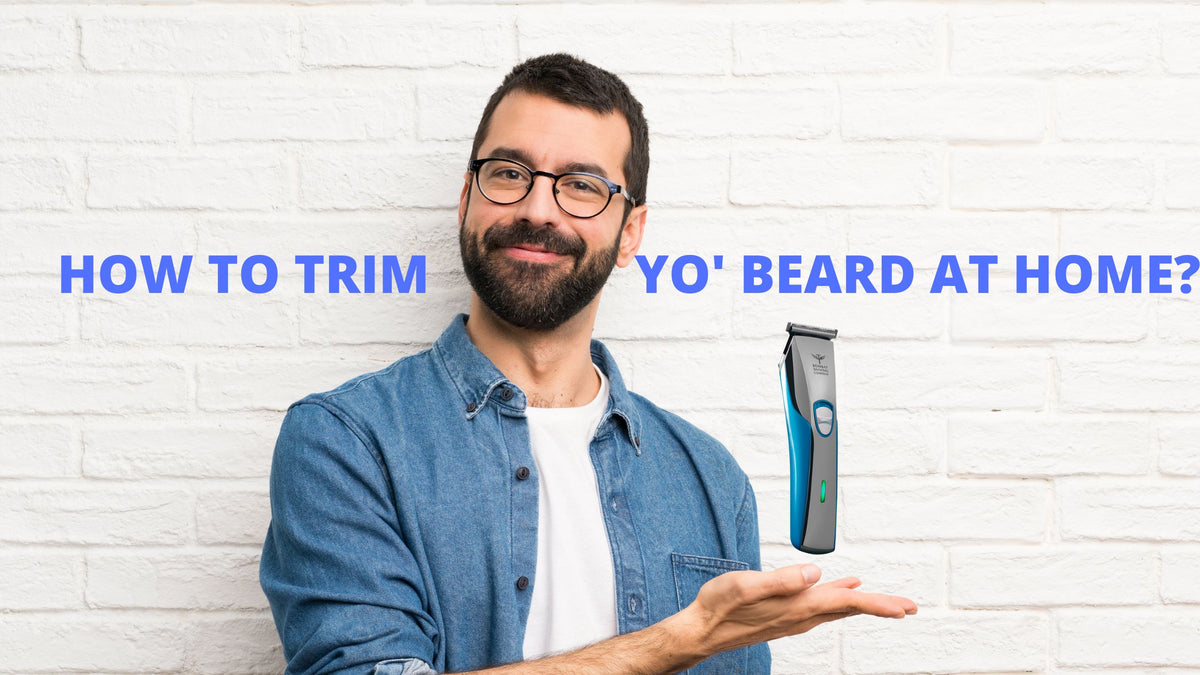 Growing a beard on your face doesn't mean you should let it mushroom into a wild undergrowth that likens you to a medieval character from Game of Thrones. Even if you're working from home and have no apparent incentive to look presentable, it's a strict no-no to ignore the basics of grooming. Why? Researchers say that the way you look and dress up while working, even in the most private spaces, has a big impact on the overall motivation to get something done. To paraphrase, you're more likely to perform better if you're in a presentable state than otherwise. So, shake yourself out of that lazy slumber and get ready to tidy up.
What You'd Need?
A trimmer is the most basic and the most sustainable tool you'd ever need to keep your beard in shape. But for a positive overhaul you'd also need something to prep, assist and maintain the look. Cross-check your bathroom cabinet for the following things and proceed if everything is in place: a beard shampoo-conditioner, trimmer, trimmer combs, beard brush and a bottle of beard oil. 
Step 1: Shampoo & Condition Your Beard
Wise men say only fools rush in, so we'll take it slow and not jump directly to chopping off the scruff in a jiffy. Start with washing your beard thoroughly with cold water (if you're reading it in winters, feel free to make it lukewarm). Dry it completely by dabbing with a towel, followed by blow drying it if the length is beyond a few inches. Use a good quality beard shampoo, which is easy on the hair and the skin underneath.
Step 2: Brush Your Beard Thoroughly
Every surface with some fur deserves to be brushed, be it the back of a Tibetan Mastiff or your beard-sporting face. Brush your freshly shampooed beard thoroughly in the direction of growth and feel the bristles of the brush on your skin underneath. It helps detangle rogue hair strands and support blood flow to the skin, which is extremely important for your beard's overall health.
[On a regular day, when no trimming is involved, half way through the brushing, apply oil on your beard and continue to brush it to spread it evenly throughout the beard. On trimming day, stall it till later.]
Step 3: Trim Your Beard 
Congratulations you lasted the intense foreplay and have earned your right to the main act of trimming. Make sure your trimmer is charged and doesn't give you a nasty surprise on the way. 
Now, the first step of trimming your beard is to get rid of the flyaways. These are the rogue hair strands that zig-zag their way out of the main mane and stand out oddly on their own. To tackle them use your trimmer without a comb, cherry-picking each zealot one by one. Once you've taken them all out, you're ready for the real trim.
If you want to maintain your look and just make your beard less messy, attach the desired length comb on your trimmer and trim it down in the direction of growth. This will retain much of the beard length and will only take care of the extra hair. The longer your beard, the bigger the comb that you'd need. 
But if you want to style your beard short, attach the desired length comb and run the trimmer against the grain. This way you will achieve the precise length mentioned on your trimmer comb. Most common length settings are 3mm, 6mm, 9mm and 12mm. However, some trimmers come with in-built beard length settings that allow you to go up to 20mm without having to attach an external comb. Check out our Beard Trimmer with 20 length settings. 
Once you've mastered the basics of trimming, you can create multiple looks for yourself at home by using the trimmer combs in multiple combinations for layering beard lengths.
Step 4: Define The Lines
Defining the lines is as important for your beard as filling colour in a colouring book. Both look extremely simple until attempted, but demand absolute precision. Use a trimmer without its combs to draw clearly defined lines on your beard.
Define your neckline with a simple thumb rule - measure a gap equal to two fingers laterally placed above your Adam's apple. It is almost always the precise point where your neckline should be defined. Now, draw a little curve from the centre of your neck downwards as you close the sides, so that you have a parabola lining your neckline. To make it look clean, apply a little warm water and Shaving Foam on the area below and shave the remaining stubble after the trim. 
On your cheeks, draw a line from the edge of your mouth (on either sides) to the side burns, following the curve of your cheekbones. Completely trim the area above this line, and line the neck, shave it with a razor for a cleanser look.
Step 5: Finish With an Oil Massage 
Your beard needs grooming but it also needs its regular share of nutrition, which can be delivered with a good beard oil. After you're done trimming your beard, brush it thoroughly, so that all the stray hair comes out with the brush. Once completely clean, take a few drops of beard oil on your palms and massage them in. Now apply the oil on your beard and massage it thoroughly from inside out. Alternatively, if your beard oil comes with a dropper, directly pump some drops of oil into your beard and massage it in properly. Follow it with brushing your beard with a comb, so that it evenly spreads on the skin underneath. This conditions the beard and replenishes the skin underneath with moisture. 
IN SHORT…
You can take charge of your beard grooming needs at home without having to run to a salon for every inch of manscaping. Just lay your hands on a good quality beard trimmer. If you're wondering which trimmer to buy, read 5 Things to Keep in Mind Before You Buy Trimmer Online to know what to look for in a trimmer before you shell out any money on it.
Leave a comment