Pros and Cons of Shaving Your Pubes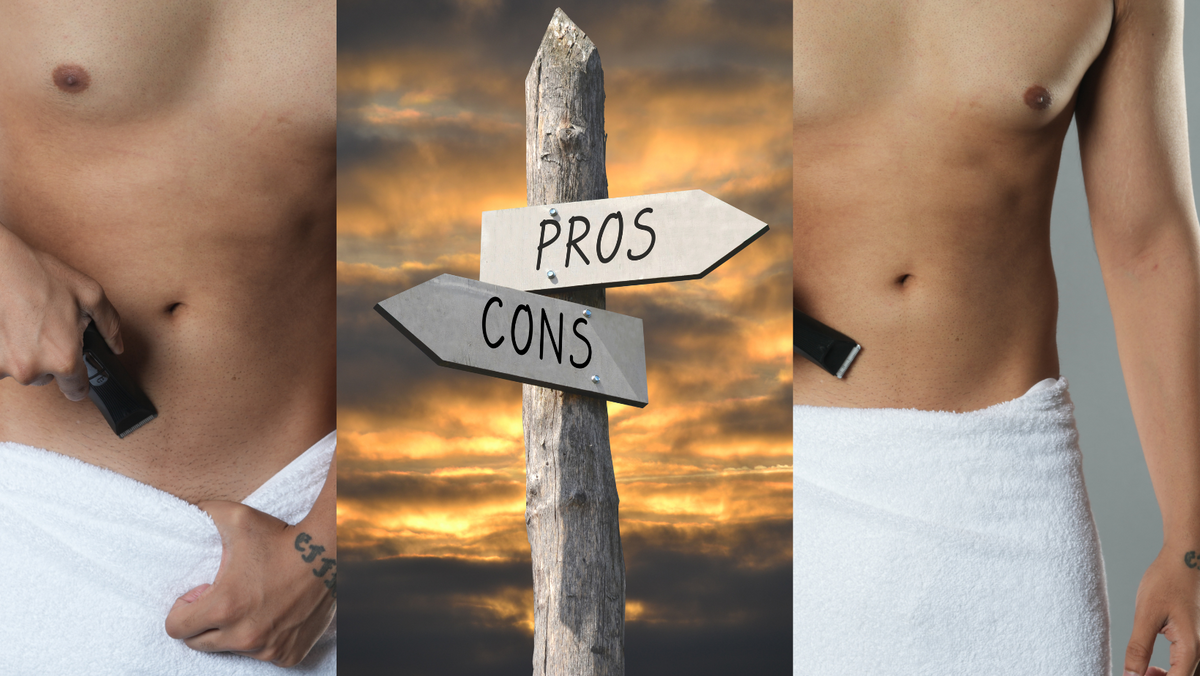 It's taken a long time for men to finally accept that they also enjoy the softer aspects of grooming with things beyond shaving and getting haircuts. Thanks to this there are open discussions about them with a scope of fine tuning their choices and better results.
If you're here, you're contemplating getting rid of your pubic hair, and believe us, we're proud of you! Here's something for your analytical side of the brain to make a choice by weighing the pros and cons of removing your pubic hair.
But before we jump in, we don't recommend you 'shaving' your pubes unless it's extremely important. Shaving may lead to nicks and cuts and precious things may get hurt if you're not attentive enough.
Also, the skin in your groin area is very sensitive, so using a hair removal cream or spray may also not be a good idea for removing hair from your pubic region.
The best method for the job is using a Pubic Hair Trimmer that's safe and fit for sensitive skin. Now that we're all on the same page, here are some potential advantages and disadvantages of getting rid of your pubes.
Pros
Aesthetics: For some people, removing pubic hair can create a smoother and more visually appealing look. Removing pubic hair also makes you appear BIGGER and more noticeable down there. 
Hygiene: Without pubic hair, it can be easier to keep the area clean and free of sweat, odour, and bacteria. So, apart from obvious hygiene you also end up reducing the risk of irritation or infections by removing your pubic hair. 
Sexual pleasure: Removing pubic hair can enhance sexual sensitivity and pleasure for some men, as it can make the area more exposed and receptive to touch and stimulation. 
Comfort: Pubic hair can get caught in clothing, such as your underwear or athletic gear, which can be uncomfortable during physical activity. Removing them can make it more comfortable to move around. 
Cons
Irritation: Removing pubic hair by waxing or shaving can cause skin irritation, razor burns, or ingrown hairs, which can be uncomfortable or painful.
Infection: Shaving or waxing can create small cuts or openings in the skin that can increase the risk of infection, especially if the area is not kept clean.
Maintenance: Keeping the pubic area hairless requires regular maintenance, which can be time-consuming and may require additional expenses for products or services.
Social pressure: There may be societal pressure or stigma associated with pubic hair, which can lead some men to feel insecure or ashamed about their natural body hair.
All said and done...
All said and done you're either this way or that. If you plan to remove your pubic hair, do it with a good quality trimmer that is safe and works in a painless fashion. Bombay Shaving Company pubic hair trimmer, Landscaper 2.0 comes with extra safe ceramic blades, a narrow head for easier maneuverability and an LED torch for making sure no strand of hair is left behind for someone else to find later (wink wink).
IN SHORT…
Ultimately, the decision to remove pubic hair is a personal one and may depend on individual preferences and concerns. It's important to weigh the potential benefits and drawbacks and to take proper precautions to avoid injury or infection.