Types of Shaving Foams and their benefits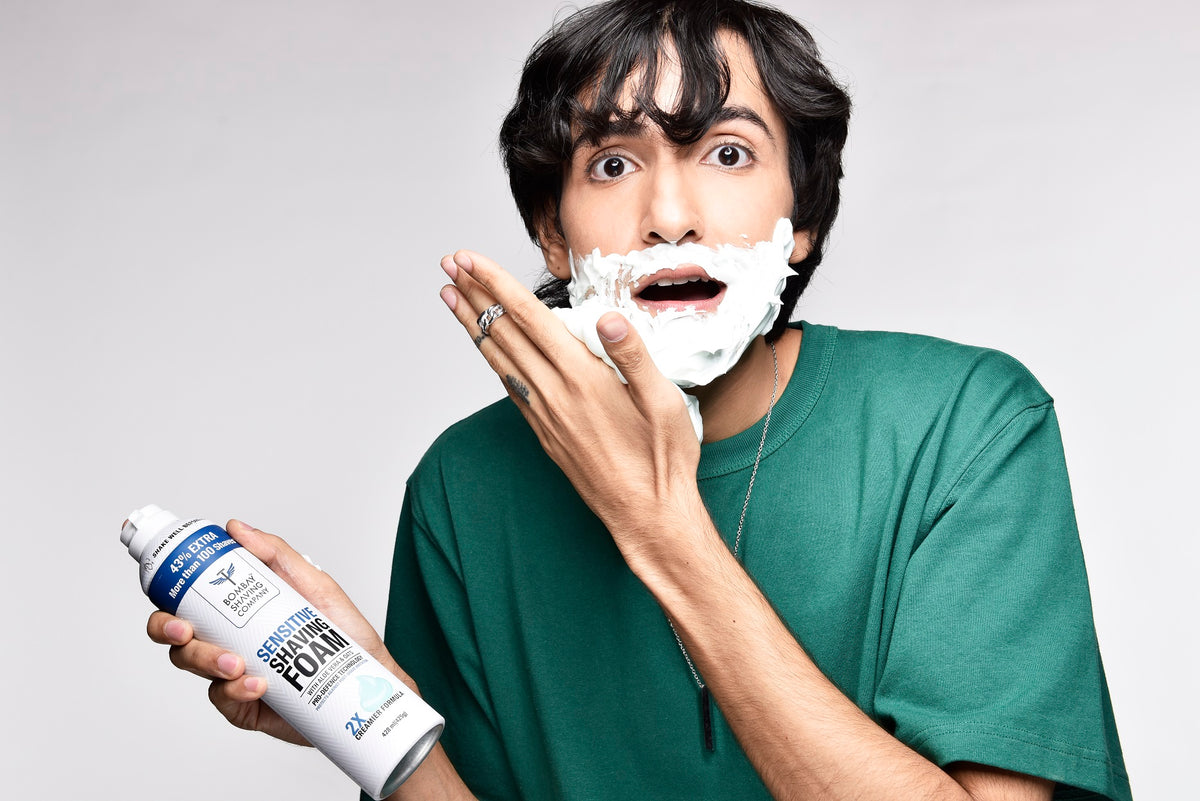 Finding the right shaving foam is way way beyond just a pleasant lather. 
It's more about your skin, its needs, and something that can act as a protective layer when you drop your sharp razor against your beard. 
The shaving foams from Bombay Shaving Company are designed to suit your skin needs and in the forthcoming section, we will delve into the four distinct shaving foams. Tailored to the needs of your skin needs and preferences. So, the next time you stand in front of the mirror, with a razor in your hand and a bottle of shaving foam in the other, you can be super sure that this is the one.
Charcoal Shaving Foam
Cleanse pores, remove dirt, and get smoother skin effortlessly. Make your shaving ritual even with the Charcoal Shaving Foam from the Bombay Shaving Company. Carefully crafted Ultra Crème Formula that creates twice the lather than an ordinary foam, turns the mundane task into a refreshing experience. 
Designed to give you a smoother shave, it is loaded with natural ingredients like activated 
charcoal for Moroccan Argan Oil to moisturize and combat acne, and a hint of menthol for a refreshing finish. Cleanse, moisturize, and revitalize your skin in a snap.
Contains: Activated charcoal, Moroccan Argan Oil, and Menthol
Suitable for: Suitable for folks who cannot settle for something ordinary. So, whether you have sensitive skin, deal with skin irritation, or just simply want to up your shaving, the Charcoal Shaving Foam is waiting for you.
Turmeric Shaving Foam
The wisdom of centuries packed in a bottle of shaving foam. Loaded with the power of superfoods, the natural properties of Turmeric Shaving Foam are thoughtfully designed to brighten your skin. And it softens the skin and reduces the chances of cuts. The saffron in it helps reduce acne build-up and removes excess oil from your skin. 
It contains no SLS and parabens to make your grooming experience completely safe and effective. Work great on reducing skin redness and post-shave irritation. We have crafted this shaving foam with Ultra Crème FormulaTM which creates 2X lather than your shaving foam that gives you a smooth shaving experience.
Contains: Turmeric, Sandalwood, Saffron
Suitable for: For the ones with oily skin and mild acne. Gently remove impurities and debris build up from your skin.
Coffee Shaving Foam

This one smells like morning. Enriched with superfoods the Coffee Shaving foam from the Bombay Shaving Company is devoid of any SLS, paraben, and any harmful chemicals which makes it completely safe for your skin and equally effective at the same time. 
Easily remove dirt and impurities from your skin with its natural exfoliation and de-tanning properties. Prevent breakouts, lock in moisture, de-clog pores, and gently nourish your skin at the same time.
We have thoughtfully crafted this shaving foam with Ultra Crème FormulaTM which creates 2X lather than the ordinary shaving foam that gives you a smooth gliding experience. It protects your skin, reduces tugs, and eliminates post-shave irritation for the finest shaving experience.
Contains: Coffee, Macadamia Nut, Olive Oil
Suitable for: For the ones with oily skin. Effortlessly remove dirt and impurities. With added natural exfoliation and de-tanning properties it prevents breakouts, locks in moisture, clears the pores, and nourishes your skin.
Sensitive Shaving Foam
Tired of cuts, burns, and skin discomfort?
Here's your solution. 
Though there are many reasons for nick and cuts during shaving, one of the reasons for this can be your shaving foam. Whether you have sensitive skin or simply want to elevate your shaving experience, the sensitive shaving foam from Bombay Shaving Company is crafted to deliver a safe and effective shaving experience. Made with no SLS and Parabens, it's the ideal choice for those who wish to have both quality and safety in their grooming rituals. Not only it guarantees a cut and burn-free shave but also gives it the care it needs.
Contains: Aloe Vera to add moisture, Oats to reduce itching and Menthol to add the cooling effect
Suitable for: Dermatologically tested the sensitive shaving foam from Bombay shaving company is designed for the one with skin that needs extra care. So if you have sensitive skin or simply want something to keep your skin calm after every shave, this one's for you.
THAT'S A WRAP
Honestly, the quest for the shaving foam that is ideal for you goes beyond bubbles and lather. It is nothing less than a reflection of self-care and respect for your skin's needs. Like a trusty friend, Bombay Shaving Company's range of foams is thoughtfully designed and tailored to your needs. Each can have a story in it. It is a nod to the idea that every razor glide is a mindfulness and a moment of self-appreciation.
Frequently Asked Questions
Q. Can I use these foams if I have a specific skin condition, like eczema or psoriasis?
A. Skin conditions like eczema or psoriasis is a serious skin condition. A condition like this needs specific medical attention. You should consult a dermatologist before using any products if you have skin concerns.
Q. What amount of shaving foam should I take before shaving?
A. While this depends on factors such as the size of the area you're shaving, the thickness of your hair, and the lathering properties of the foam, we advise you to start small and take portions as needed.
Q. Does the amount of lather affect the quality of the shaving experience in any way?
A. The lather acts as a protective barrier, but too much foam can clog the razor and you won't be able to achieve the desired result. Finding the right quantity that suits your skin is more crucial.
Leave a comment