Everything You Wanted to Know About a Trimmer for Men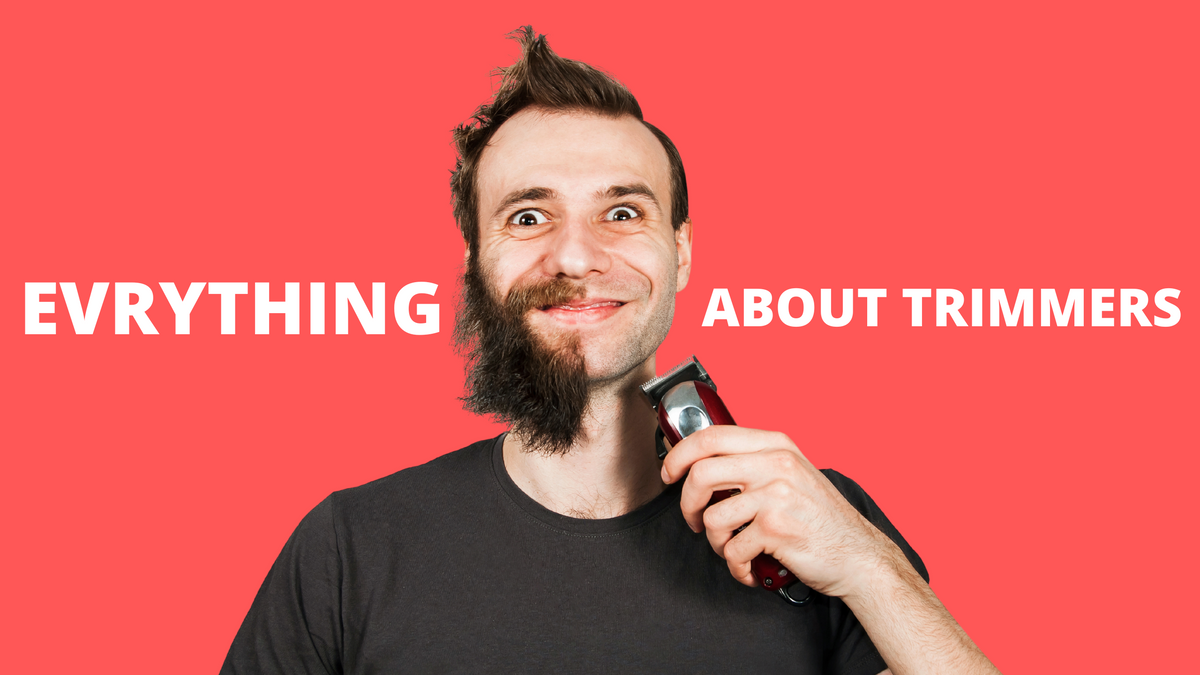 The last two decades have seen an overwhelming surge in men fashioning beards. Every second man you see at college, work place or simply in the street has some form of facial hair that he voluntarily grows. The aesthetics of the same may be an area open for debate but the trend is definitely here to stay. As we delve into the subject, we can't ignore an equally fast escalating concept that has reached an epic reputation of a modern man's go-to 'grooming essential' – a Trimmer. 
WHAT'S A TRIMMER?
Trimmer is to mortals what the hammer is to Thor. It empowers them and makes them look good. By 'them', we mean you. It's a portable device, designed to be hand-held, to give your face a good mowing. Well, not that brutally! It allows you to trim, shape and style facial hair, at the ease of your washroom. You can use trimmers on your beard, moustache and side burns and with some variants (called clippers) even on your head. 
How do trimmers work?
A classic twin blade arrangement of a trimmer
If you felt a tremor at the mention of mowing, you're up for more shakes. A trimmer has two blades placed together so that one of them oscillates at a high rate and the other one stays fixed, causing a sliding action that would cut anything, which gets trapped between. Reminds you of a Game of Thrones episode with gore to the power of max? Relax, it's not as bad as it sounds. It is designed in a way that it keeps the skin safe and only gobbles the hair stands. 
WHAT DO YOU GET IN A TRIMMER BOX?
Trimmer
This is the main unit that you've spent your moolah on. Basic elements of a trimmer are removable blades and a power button to switch it on and off. Most domestic trimmers use self-sharpening stainless-steel blades that resist rusting and last long. Some are also equipped with titanium blades, but they are less common. Many brands offer precision dials on the trimmer itself for adjusting length settings, while others offer multiple combs for the same. 
Combs
These are standard attachments to be mounted on the blade of the trimmer to create a gap between the blade and your skin. This allows you to customize the length of your beard by choosing the desired size of a comb. For example, Bombay Shaving Company Cordless Beard Trimmer offers four combs in 3mm, 6mm, 9mm or 12mm sizes. They give you beard lengths in the ascending order of this sequence. It means if you use a 3mm comb you'd have the closest trim, 6mm would leave slightly bigger hair on the face, and so on. So, the smaller the length of the comb in mm, the closer the trim. If you choose to go without a comb, you'd get the closest trim leaving only an evening shadow on your face. 
Charging Cable/Dock
We've come a long way from the manual clippers that barbers once used to slide on men's heads, causing goosebumps and occasional nicks. Today all trimmers are powered by batteries that are rechargeable. Expect a charging cable to be included in the box. Some models, like Bombay Shaving Company Cordless Beard Trimmer & Hair Clipper, come with charging docks that double up as a stand for the trimmer and give it an impressive look. 
Cleaning Accessories
It's very important to keep a trimmer clean to ensure it operates on its optimum level of performance and lasts long. Brands offer a cleaning brush or two with each trimmer to encourage you to keep it clean. The water-resistant feature further equips a men's trimmer to be thoroughly cleaned with water and yet ensure its safety. 
Maintenance Oil
Traditional wisdom of oiling metal equipment to minimize friction and enhance performance continues to stay true in a modern trimmer. Many brands do offer you an oil for maintenance, while others encourage the ritual by throwing in a dropper. 
HOW SAFE IS A TRIMMER?
Usually when you understand how a beard trimmer works, the most obvious doubt is if a trimmer can hurt you while in use. The answer is a resounding NO, because of the way they're designed. The mechanism of a men's trimmer is based on pinching the hair off the skin. Unless too much pressure pushes the blades into the epidermis the skin will not get caught between the oscillating edges. But some reservations always have scope, so make sure you always use a trimmer with a light hand. 
THINGS TO KEEP IN MIND BEFORE BUYING A TRIMMER
There are several differentiating factors among brands that can make the exercise of choosing the right trimmer for you a staggering exercise. Keep it simple and just ask yourself the following questions before making up your mind:
How is the battery backup?
Fast Charging – Buy ✅ 
Run time < 60 minutes – Don't Buy ❌
With so many appliances that we charge everyday, our understanding of batteries and battery life seems quite sorted. Just apply that knowledge into making a choice. Make sure that the model you're interested in has latest features like fast/flash charging and gives a decent run time. An ideal full charge time should not be more than 2-3 hours, and the battery backup on a full charge should not be less than 60 minutes. 
What type of blade is used?
Self-Sharpening Blades – Buy ✅
Regular Blades – Don't Buy ❌
Don't get confused with the stainless steel vs titanium blades debate. If you're buying the trimmer for personal use, it will make no difference which between the two you buy. The important factor to consider is self-sharpening technology, which ensures that the gradual dulling of blades doesn't happen and your trimmer stays sharp as new throughout its lifespan. 
Can I wash the trimmer?
Water Resistant – Buy ✅
Only Dry Clean – Don't Buy ❌
A key tip to make a trimmer last longer in its most effective form is by keeping it clean. While dry manual cleaning is an obvious choice, the option of washing it with water ensures the removal of even those tiny bits of hair that are otherwise hard to pull out. Hence, go for a model with minimum IPX6 grade of water resistance to be able to wash the blades, even with high pressure water.  
Does the design match my personality?
Like everything else a trimmer is a gadget that is driven by style and aesthetics as much as by its functionality. Go for something that is an extension of your personality with a plastic body or a full metal exterior; a curvy design on the bulky side or a slim and sleek elegant look. 
IN SHORT...
It doesn't make a difference whether you like to rock it in a stubble or sport a full-fledged mane, beards become so much more manageable with a simple trimmer at home. Invest the time and money you save by skipping frequent visits to the salon elsewhere or simply by upgrading to a better trimming gadget.
Leave a comment